eCommerce Web Development Agency Noida
We offer a wide range of ecommerce web development services, including custom ecommerce web development, Magento web development, Woocommerce web development, Shopify Web Development etc.
Ecommerce Web Development Services
We offer eCommerce web development services taking into account your objectives, needs and financial constraints. At ElementSofts, our eCommerce web developers have outstanding skills and in-depth understanding that will meet your eCommerce project requirements.
In today's digital age, having a well-designed ecommerce website is essential for any business looking to sell products online. A professionally designed ecommerce website can help you attract customers, build trust, and ultimately increase sales. When choosing an ecommerce website design & development service, it's important to find an agency that has experience working with ecommerce platforms such as Shopify, WooCommerce, Magento, and BigCommerce. If you need custom ecommerce web development or e-commerce website development, you can discover all of the services under one roof.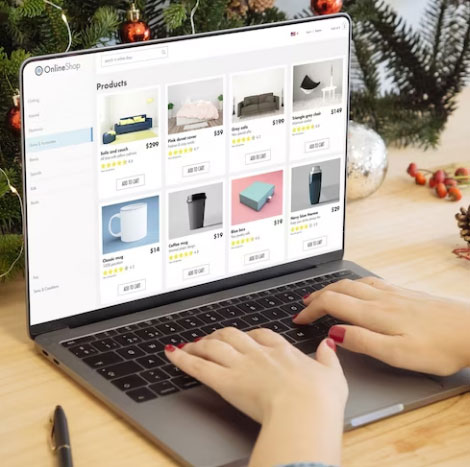 We deliver comprehensive eCommerce Web Development Services
We understand that every business is unique, and we approach each eCommerce web development project with a focus on customization. We take the time to understand your specific eCommerce needs and goals, and we tailor our services to meet them. Whether you need a custom ecommerce website or with popular opensource platforms such as Shopify, WooCommerce, Magento, and BigCommerce, our experienced ecommerce website design experts will be able to help you choose the right platform for your business, as well as optimize your site for conversions and user experience.
01.
B2C eCommerce Web Development
With popular opensource CMS/Platforms like Magento, WordPress+WooCommerce, PrestaShop, BigCommerce, Shopify, and others, we can create comprehensive B2C e-commerce websites and multi-vendor marketplaces (B2B and B2C).
02.
B2B Marketplace Web Development
When many businesses join a single platform to conduct business, the term "business-to-business" (B2B) website is frequently used. With a decade of experience, ElementSofts is a Noida-based B2B website design company that offers B2B web portal development services to businesses across the world.
03.
Multi Vendor Web Development
A platform where numerous vendors can offer their goods or services is known as a multi vendor ecommerce website. A "marketplace model" or "online marketplace" are other names for this kind of marketplace. The most well-known examples of multi-vendor e-commerce marketplaces are Etsy, Amazon, and eBay.
04.
Magento Website Development
With the help of our skilled team of developers, we offer you complete support for Magento development. Build a quick, feature-rich, and scalable Magento Commerce platform from start or even migrate current stores to Magento. Your business-specific eCommerce platform can be designed, developed, deployed, and maintained by ElementSofts' skilled team of Magento developers.
05.
Custom eCommerce Web Development
Our custom eCommerce website development agency Noida offers you a user-friendly website with custom features, and tailor-made plans suitable for your business. We offer custom eCommerce web development services to develop unique looking and well converting lead generation websites for fast growing and ambitious online businesses.
06.
Small Business eCommerce Development
At ElementSofts, we offer a range of affordable eCommerce web site development packages suited for small & middle level businesses that provide you with exactly what you want for your startup company.

Frequently Asked Questions