Website Design Company in Greater Noida
ElementSofts, Noida based agency provides a range of website design and development services in Greater noida, from developing mobile-friendly web solutions to generating unique e-commerce and internet experiences using the most recent and tested web technologies.
Website Design & Development Company in Greater Noida
ElementSofts sepcializes in Website design & development services in Greater Noida. Our websites offer a wealth of features, are extremely functional, and are digital revolutionary. Additionally, they are designed to be incredibly safe, fully functional, and scalable as your organisation grows.
Our experienced website developers deliver professional website development and web design services to our customers in greater noida. ElementSofts offers a variety of website design and development services, from creating flexible website designs and mobile-friendly web development solutions to creating distinctive e-commerce and internet experiences using the most up-to-date and tried-and-true web technologies.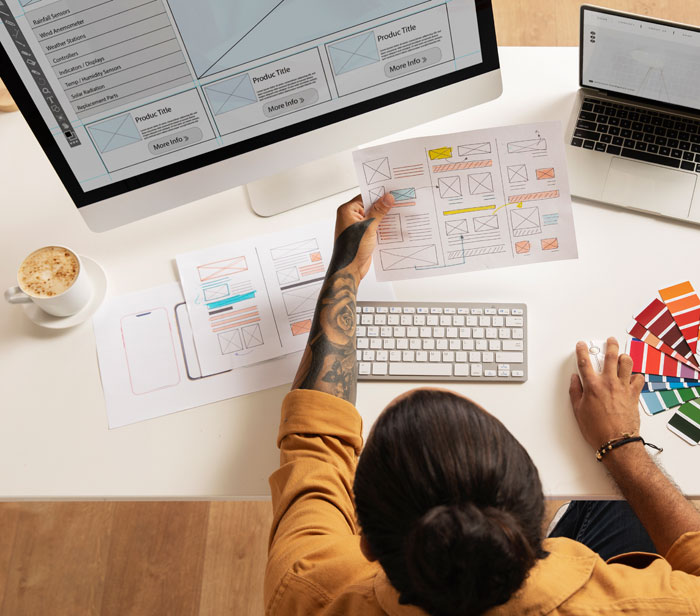 We deliver comprehensive Web Design Services in Greater Noida
Setting up a website is only the first step in creating a digital presence and hoping that people will find it. Your website is the foundation of your business's online presence. It serves as your primary method of consumer engagement and conversion. As a result, you must ensure that it ranks highly on search engines, distinguishes itself from the competition, and fulfils the needs of your visitors.
01.
Responsive Web Design Greater Noida
Mobile devices account for more than 50% of all online traffic for most firms. In order to provide a consistent user experience across all screen sizes, we at ElementSofts make sure that your website is 100% responsive.
02.
User Friendly Website Design Greater Noida
The best website designs are more than just aesthetically pleasing. Your website needs to be both user- and conversion-friendly. Our UI/UX professionals at ElementSofts do in-depth research and planning on user-flow in order to make your website as user-friendly and fluid as feasible.
03.
CMS Website Development Greater Noida
We create websites that are easy to manage and update on your own after deployment as one of the best website design companies Greater Noida. We provide fully customised, branded CMS (Content Management System) site designs that adapt automatically to multiple screen widths.
The expert CMS developers at ElementSofts can create custom CMS or integrate well-known open-source CMS platforms like WordPress, Drupal, Joomla, Magento, Laravel, and others.
04.
SEO Friendly Website Development Greater Noida
Web design that is SEO-friendly and fully indexable by search engines is referred to as SEO web design. SEO-friendly websites often see more traffic than those that are not. At ElementSofts, one of the top SEO-Friendly Web Design Companies in Greater Noida, India, we have a talented team of designers, developers, SEO strategists, graphic designers, and content writers.
05.
Custom Website Design Greater Noida
Custom web designs are one-of-a-kind design approaches that completely incorporate the character and personality of your brand into the website.
At ElementSofts, we offer the best custom website design & development service with perfect responsive UI/UX designs.
06.
Ecommerce Website Development Greater Noida
We are glad to say that we have more than 10 years of expertise providing our clients across a broad range of industry verticals with custom eCommerce website development services in Greater Noida.
Utilizing powerful eCommerce platforms like Magento, OpenCart, Shopify, WooCommerce, etc.,
Frequently Asked Questions