Graphics & Logo Design Agency Noida
Graphics are an important part of web design but require serious thought and planning. Businesses use Graphic Design in a various of ways for their products and services promotion such as poster, newsletter design, banners, flyers, logos, brochure design, business cards, letterheads, websites and etc.
Creative Graphics Design Agency Noida
At ElementSofts, every project we work on is seen as a step in the direction of connecting with the consumer.
Can you imagine life without graphic designs? Today's world is full of designs which you might not aware of it. In every aspects of our lives from the moment we wake up till the time we goes home, we see graphics everywhere. It has became a part of our lives and businesses too.

Communications done by visual effect is far more effective than written communication; even the unspoken significance of emotion and importance are conveyed. Graphic Design has always kept a position of cutting edge.
Effective website graphics attract people to read the content of your page. People often get their first impression of your company through some communication such as a brochure or flier or even a business card. And the quality of the graphic design influences their reaction.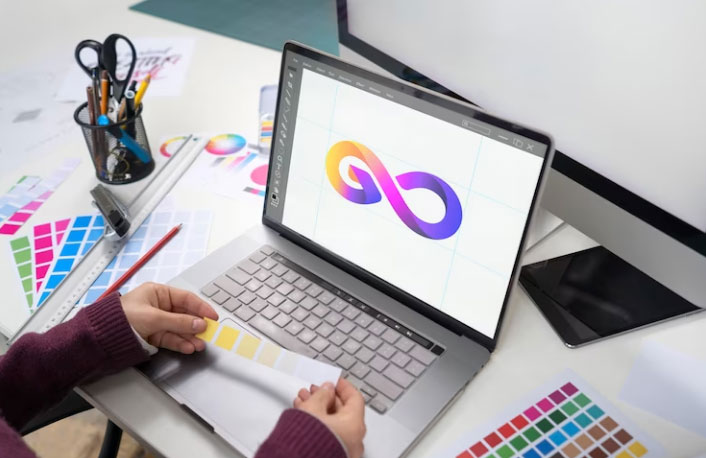 We deliver comprehensive Graphics Design Services
Graphic designing can also be used for logo designing. Logos give a symbolic identity to a company, separating them from the crowd. Professional web graphic design can be used on websites, flyers, letterheads, business cards, etc.
01.
Logo Design
The best logos are more than just artistic marks. It makes it easier to recognize brands. Being a logo design agency, we have skilled logo designers who understand how to make a distinctive logo that stands out visibly and eventually creates a distinct brand. Use our logo design services to obtain the ideal symbol that perfectly sums up your company.
02.
Catalogue Design
The objective of a catalogue is to describe each product in detail. This provides the freedom to examine each and every service by reading the entire document. We at ElementSofts give you the most imaginative and insightful catalogue design services in Noida.
03.
Brochure Design
A brochure is most likely the greatest technique to present a fresh offering from the business on pages that can bridge the gap between the business and the readers. We have a full-fledged team of brochure designers at ElementSofts that are experts at creating high quality brochures.
04.
Social media Creative Designs
With the constantly evolving social media world, the demand for engaging postings and new content has never been higher. To swiftly create on-brand social media content that leaves an impression, marketing and design teams need assistance from expert creative designers.
05.
Ad Banners
There are numerous banner ads all over the internet. It seems like wherever you go on the internet, they follow you. Our lives now include ad banner designs so thoroughly that we barely ever find them bothersome. The best banner ad designs are made specifically to accomplish that.
06.
Print Ad/Packaging Design
We offer a packaging design work portfolio in Noida, a brand packaging design made for any size of business, customize. Design your packing materials, packaging graphic design, packaging design, banner design, template design for social media, Poster Design, and Graphic Designer.
Frequently Asked Questions