Shopify Web Development Agency Noida
We offer a wide range of shopify web development services, including custom shopify web development, shopify theme development, Shopify Web Development etc.
Shopify Web Development Services
We offer Shopify website development services taking into account your objectives, needs and financial constraints. At ElementSofts, we understand that your online store is the heart of your business. That's why we offer comprehensive Shopify web development services tailored to your unique needs and goals. Our team of skilled developers, designers, and strategists work collaboratively to deliver exceptional results, transforming your vision into a visually stunning and highly functional Shopify store.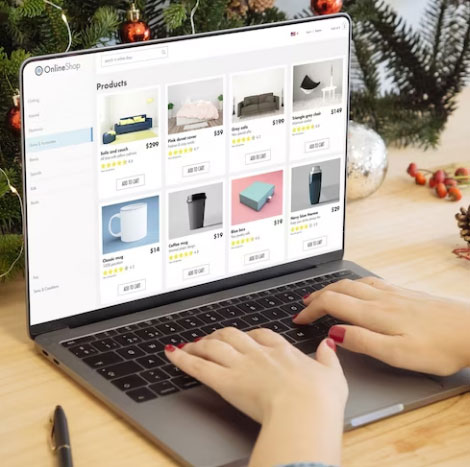 We deliver comprehensive Shopify Web Development Services
We are a leading Shopify web development agency committed to helping businesses thrive in the digital marketplace. With our expertise, innovation, and dedication, we create exceptional Shopify stores that drive sales, engage customers, and amplify brand presence.
01.
Custom Shopify Store Development
We specialize in building bespoke, fully customized Shopify stores that align with your brand identity. From the initial concept to the final launch, we meticulously craft every aspect of your store, ensuring seamless navigation, intuitive user experience, and responsive design across all devices.
02.
Theme Customization and Design
We know the importance of standing out in a crowded online marketplace. Our team will work closely with you to create a visually striking and unique store design that captures your brand's essence. Whether you need a new theme or want to enhance an existing one, we have the expertise to bring your vision to life.
03.
Third-Party Integrations
Extend the functionality of your Shopify store by integrating it with various third-party applications and services. We can seamlessly integrate popular tools like payment gateways, inventory management systems, CRM solutions, marketing automation platforms, and more, empowering you to streamline operations and enhance customer experience.
04.
Mobile Commerce Optimization
With the growing number of mobile shoppers, having a mobile-friendly store is essential. Our team ensures your Shopify store is fully optimized for mobile devices, providing a seamless shopping experience across smartphones and tablets.
05.
Performance Optimization
Slow-loading websites can negatively impact user experience and conversions. We optimize your Shopify store's performance by implementing industry best practices, including code optimization, image compression, caching techniques, and CDN integration, ensuring your store loads quickly and efficiently.
06.
Ongoing Support and Maintenance
We believe in building long-term partnerships with our clients. Our dedicated support team is available to address any technical issues, perform regular updates, and provide ongoing maintenance to keep your Shopify store running smoothly.
Frequently Asked Questions