Website Design & Development Company Delhi
ElementSofts, Noida based company provides a range of website design and development services in Delhi, from developing mobile-friendly web solutions to generating unique e-commerce and internet experiences using the most recent and tested web technologies.
Creative Website Design & Development Agency in Delhi
In today's digital age, a website is essential for any business. It is your online storefront, and it is the first impression that potential customers will have of your company. A well-designed website can help you to attract new customers, build relationships with existing customers, and increase sales.
If you are looking for website design and development services in Delhi, then you have come to the right place. We are one of the best web design and development agency in Delhi, and we have a team of experienced and talented designers and developers who can create a website that meets your specific needs.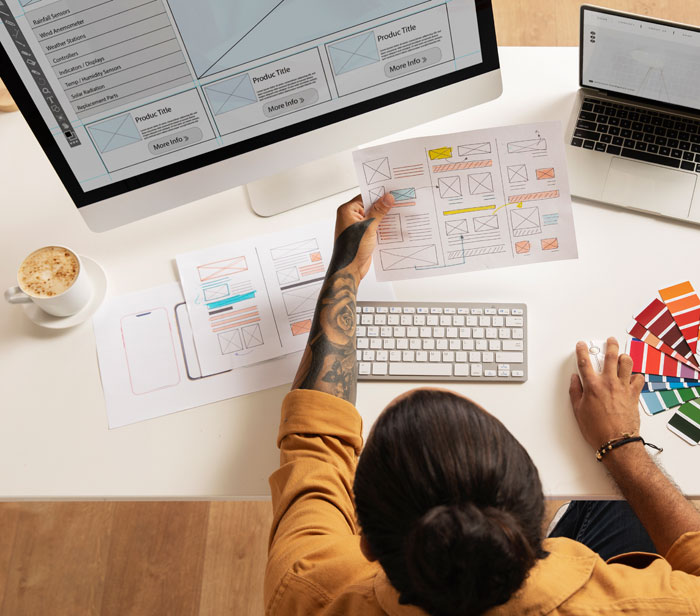 We deliver comprehensive Web Design Services in Delhi
We are committed to providing our clients with the best possible website design and development services in Delhi. We understand that your website is an important asset, and we will work with you to create a website that you can be proud of.
01.
Responsive Web Design Delhi
More than 50% of all online traffic for the majority of organisations comes from mobile devices. Therefore, at ElementSofts, we ensure that your website is 100% responsive and offers a consistent user experience across all screen sizes.
02.
User Friendly Website Design Delhi
Best website design goes beyond merely being visually appealing. Your website must be user-friendly and conversion-optimized. To make your website as user-friendly and fluid as possible, our UI/UX professionals at ElementSofts conduct extensive study and planning on user-flow.
03.
CMS Website Development Delhi
As one of the top CMS web design agency Delhi, we build websites that are simple to manage and easy to update the information on your own after deployment . ElementSofts has a dedicated team of skilled CMS web developers who can make Custom CMS or can integrate popular Open-Source CMS platform, including WordPress, Drupal, Joomla, Magento, Laravel, and others.
04.
SEO Friendly Website Development Delhi
Making websites completely accessible and search engine-indexable is known as SEO Frinedly web design. Websites that are SEO-friendly typically receive more traffic than those that do not. We have a skilled team of designers, developers, SEO strategists, graphic designers, and content writers at ElementSofts, one of the best SEO-Friendly Web Design Companies in Delhi, India.
05.
Custom Website Design Delhi
We will develop your website using the latest technologies and best practices. We will ensure that your website is secure, reliable, and easy to maintain. We are committed to providing our clients with the best possible custom website design and development services in Delhi.
06.
Ecommerce Website Development Delhi
We are pleased to say that we have more than 10 years of experience in providing our clients across a range of industry verticals with eCommerce website development services in Delhi. Using powerful eCommerce platforms like Magento, OpenCart, Shopify, WooCommerce, etc., our dedicated team of qualified eCommerce website developers Delhi can turn your online store into a simple and enjoyable place to shop.
Frequently Asked Questions