Web Development Agency Noida
We offer a wide range of web development services, including bespoke web development, e-commerce web development, blogs development, content management systems, etc.
Professional Web Development Services
We offer web development services taking into account your objectives, needs and financial constraints. At ElementSofts, our developers have outstanding skills and in-depth understanding that will meet your project requirements.
When it comes to building a successful online presence, web development is key. A well-designed and functional website can help you attract and engage customers, establish credibility, and ultimately grow your business.

If you need custom web development or e-commerce website development, you can discover all of the services under one roof.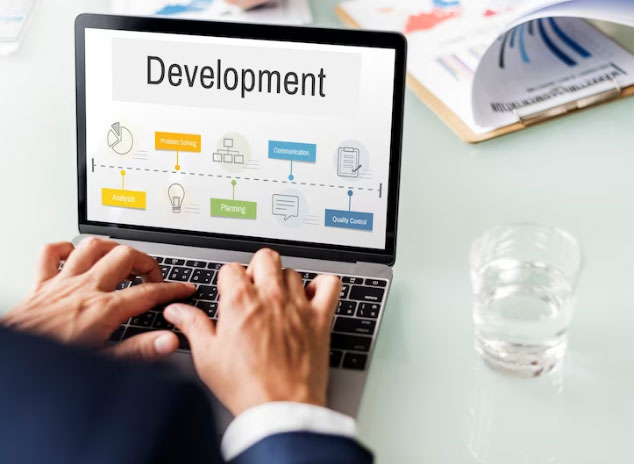 We deliver comprehensive Web Development Services
We understand that every business is unique, and we approach each web development project with a focus on customization. We take the time to understand your specific needs and goals, and we tailor our services to meet them. Whether you need a simple corporate website or a complex e-commerce platform, we have the skills and expertise to deliver exactly what you need.
01.
Dynamic Website Development
Dynamic websites are interactive and have high functionality. They are also simple to update. They usually take longer time to develop. Dynamic websites, in contrast to static ones, can be updated by anyone with no prior HTML knowledge or experience.
02.
eCommerce Website Development
With popular opensource CMS/Platforms like Magento, WordPress+WooCommerce, PrestaShop, BigCommerce, Shopify, and others, we can create comprehensive e-commerce websites and multi-vendor marketplaces (B2B and B2C).
03.
CMS Website Development
At ElementSofts, we develop CMS (Content Management System) websites, which reduces client's reliance on developers to make any content changes in the website & making it quicker and easier to update web pages.
04.
News / Magazine Website Development
At ElementSofts, we have experience with online news website portal development, news portal development, magazine web portal design, development, and maintenance.
05.
Custom Website Development
We offer custom web development services to develop unique looking and well converting lead generation websites for fast growing and ambitious businesses.
06.
Small Business Website Development
At ElementSofts, we offer a range of affordable web site development packages that provide you with exactly what you want for your startup company.

Frequently Asked Questions